PCA-4125
Power Communications Analyzer
Features & Benefits
Improve System Performance
Get more out of system maintenance testing with valuable and accurate measurement readings not available in other instrumentation. Waveform graphs and helpful conversions are displayed automatically, providing the user with data needed to quickly identify and resolve issues.
Electronic Data Storage & Output
Save, recall, and download field test setups and test results with the first portable Selective Level Meter capable of internal data storage or external data output to a USB memory stick. Each test result is date/time stamped and can be transferred to a computer for report generation, helping users comply with NERC requirements.
Reduce Test Time & Complexity
Test all major elements of a Power Line Carrier system using a single instrument with straightforward and greatly simplified test procedures that significantly decrease test time and chance of user error.
Field Ready
Rugged and compact, the PCA-4125 saves space by eliminating the need to carry multiple single function instruments. The PCA-4125 comes equipped with rechargeable lithium ion polymer batteries and a display with multiple color modes for optimum outdoor viewing. Each instrument ships with a transit case and accessory kit compiled with the field technician in mind.
Instrument Functions
Overview
The frequency selective level meter (SLM) measures the signal level(s) of individual frequencies from 5 Hz to 5 Mhz.
The SLM home screen displays all relevant frequency selective measurement values including:
Frequency
Level RMS Voltage
Level dBm
Power
Wideband RMS Voltage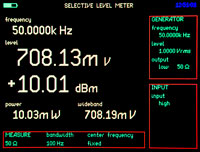 Features
Input Flexibility
The PCA-4125 has four inputs available for SLM measurements - three unbalanced and one balanced input.
High Z

A high impedance, high voltage input used for bridged measurements capable of > 100 VRMS, eliminating the need for external attenuators.

18W 50/75Ω

A 50/75Ω terminated input used for setting transmitter output levels.
Low Level

Low level input with programmable impedances of 50Ω, 75Ω, 600Ω or 1MΩ for bridged measurements.

Balanced Input

A balanced input with programmable impedances of 50Ω, 75Ω, 600Ω or 1MΩ for bridged measurements.
Selective Dual Frequency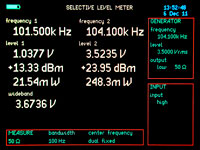 The SLM has a dual frequency function that allows for selective measurement of two frequencies on a single screen at the same time.
Selective Level Meter Sweep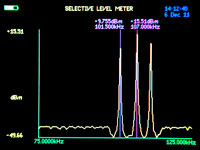 Perform a passive sweep of the communications path to determine all frequencies present on the line.
Multiple Bandwidth Options
Wide (5 Hz to 5 MHz)
3.1 kHz
1.95 kHz
600 Hz
100 Hz
25 Hz
Overview
The Impedance Meter measures the impedance of different circuits and ranging from 100mΩ to 100kΩ. It is the meter used when testing & adjusting line tuners and traps in a power line carrier system
The Impedance meter home screen displays five measurement values:
Frequency
Impedance
Phase Angle
RMS Voltage
Current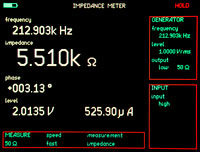 Features
Selectable Display Modes
Each of the display modes below can be accessed during and after a test is completed.
Line Trap Sweep
Simply enter start & stop frequencies and start the sweep.
Simplified Final Line Trap Adjustments
Using the real time mode, set your desired blocking frequency and simply adjust the trap to obtain a zero degree phase angle which results in the maximum impedance at the desired frequency.
Overview
The Frequency Response Analyzer (FRA) has a frequency range of 5Hz to 5MHz and is used to measure the dynamic response of a system or piece of equipment. Power Line Carrier applications include measurement of hybrid & combiner losses and phase.
The Frequency Response Analyzer home screen displays the following measurement values:
Frequency
Gain
Phase
CH1 Voltage
CH2 Voltage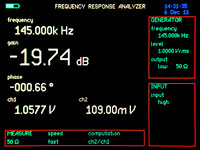 Features
Compare two inputs simultaneously
Selectable graphs for gain or phase
Overview
The VSWR Meter measures the standing wave ratio on a communications circuit using one of two methods. The first method uses impedance to measure VSWR. The second method uses a Model 410/411 external dual directional coupler that is included with the instrument. The meter is primarely used to when taking line tuner reflected power measurements.
The VSWR screen displays seven measurements:
Frequency (Hz)
Reflected Power (%)
Reflected Power (dBm)
Reflected Power (dB)
Forward Power (dBm)
Power (W)
VSWR (ratio)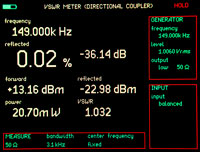 Features
All Relevant Values on One Screen including percent reflected power
Simulate transmitter frequency with the PCA-4125 generator
Perform "as left" measurements with local transmitter with directional coupler(included in kit).
View multiple frequency response graphs of the line tuner:

% Reflected Power vs Frequency
Return Loss vs Frequency
VSWR vs Frequency
Overview
The PCA-4125 signal generator is a Direct Digital Synthesis (DDS) frequency generator with a frequency range from 5Hz to 5MHz. Two outputs are available to accommodate the many instrument modes and applications. The generator's low level output is capable of putting out 0.2 watts into a 50 ohm load and has selectable impedances of 50, 75 and 600 Ohms. The low level generator is also used for impedance and VSWR measurements. The generator's high level output can be ordered as 50 or 75 ohms and is rated 2 watts.
Features
Programmable Waveforms
The PCA-4125 generator signal's amplitude can be set in volts or dBm and can be programmed to be any one of the following wave forms:
sinewave
triangle
squarewave
whitenoise
FSK Control Function
Simplify the process of testing teleprotection scheme timers and functionality with the PCA-4125's FSK Control Function. The FSK control function allows a Guard frequency and a Trip frequency to be entered together with a guard hold time to prove out guard-before trip and pre-trip timers.
Guard & Trip (Mark & Space) Toggle
Set frequency step to channel spacing and toggle between Guard & Trip using the right and left arrow buttons on the instrument keypad.
Overview
The PCA-4125 measures capacitance, inductance and resistance using the impedance function of the meter.
Capacitance Meter
The PCA-4125 uses the impedance function to measure capacitance. The external connections to take capacitance readings require using the signal generators low level output and the low level unbalanced input. These two options are automatically turned on when the capacitance option is activated.
Inductance Meter
The PCA-4125 uses the impedance function to measure inductance. The external connections to take inductance readings require using the signal generators low level output and the low level unbalanced input. These two options are automatically turned on when the inductance option is activated.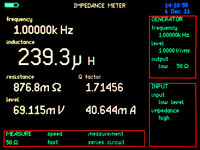 Resistance Meter